Tech Docs
BRTA Driving License Check – 2 Proven Way
Today, I will tell you two proven ways to check your BRTA Driving License Check. By following these methods, you can easily verify the Bangladesh Road Transport Authority's (BRTA) license yourself. You can also download a free copy of your driving license online and check its application status.
If you applied for a driving license from the BRTA authority, there are two easy options to check if your driving license has been printed yet. You can also verify if the received driving license is original or not.
BRTA Driving License
The Bangladesh Road Transport Authority (BRTA) maintains vehicle-related operations in this country. Everyone who wants to drive any vehicle must apply for their driving license following the proper guidelines.
First, you have to BRTA Fee Calculate and apply for a Learner Driving License. Then, after taking training and learning how to drive a vehicle, you must attend the Driving License Written and Practical Exam on a fixed schedule. You must pass the field test and written exam to get a license.
Once all of the requirements have been met, the BRTA will issue the driving license. The driving license is valid for five years and must be renewed after that.
Driving License Status Check
The BRTA (Bangladesh Road Transport Authority) has developed a new platform that allows you to verify if your applied driving license has been printed or not. This platform utilizes a driving license checking software to verify the accuracy of the provided information.
Additionally, you now have the convenience of easily verifying the Bangladeshi Driving Licenses of others from the comfort of your home or anywhere else. Like XI Class Admission Result in Bangladesh.
There are two options available for BRTA Driving License Check and License Status. One is through the website, and the other is via the Android app. I will describe both options below for your easy understanding. Please review the methods provided.
The BRTA Driving License Check software is called the 'Driving License Printing Status Search' (HSDL), which can be found on the 'বিআরটি'র সেবার তথ্য সম্ভার' (brta.gov.bd) website. Another option is the 'DL Checker' Android application. Let's learn both of them.
Driving License Printing Status Search
If you have already completed your Biometric process, you can now check whether your driving license has been printed or not. Simply follow the steps below to BRTA Driving License Check.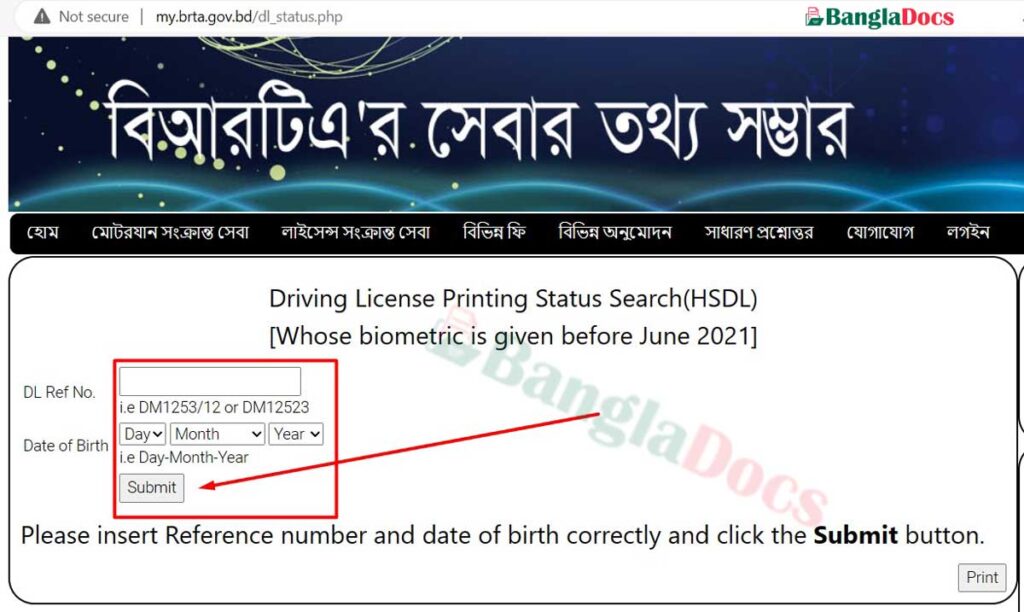 1. Open http://my.brta.gov.bd/dl_status.php in your mobile or computer browser.
2. After entering your DL Ref No and Date of Birth, click on 'Submit'.
If your DL Ref No and Date of Birth are correct, the system will display whether your driving license has been printed or not. If it has been printed, the system will provide information about when you can expect to receive it or when it will be delivered.
Bangladesh Driving License Checking Process
After receiving your driving license from BRTA, your first responsibility is to verify it. This ensures that you are safeguarded from any unforeseen issues on the road.
The Bangladeshi Government has introduced an Android app for checking driving licenses. You can locate it on the Google Play Store by searching for 'BRTA DL Checker App'.
Upon installing the app and entering your Driving License Number or DL Reference Number and Date of Birth, you can access a clear image of your driving license, BRTA Driving License Check view the card status, and review all the information stored on the BRTA DL Server.
If you need urgent loan for submit your application. You can apply bKash Loan from City Bank and get fast online Bank loan instantly.
Steps to Check your BRTA Driving License via DL Checker App
1. Start 'BRTA Driving License Check' by opening your Google Play Store app.
2. Type 'BRTA DL Checker' in the search bar and proceed with the search. Alternatively, you can directly download it from here by clicking this link. Look for the 'DL Checker' app developed by 'BRTA ICT' or 'ICT' in the search results and tap the 'Install' button.
Please be cautious as there might be alternative versions of the app created by other developers. Make sure to verify the developer name as 'BRTA ICT' or 'ICT.' Downloading apps from other sources could potentially compromise your phone's data security.
3. Once the installation is complete, open the 'BRTA DL Checker' app. Enter your Driving License Number and Date of Birth, then click on the 'Search' button.
You also have the option to check by scanning the QR Code or using the DL Reference Number. Choose the method that suits you. If the data you entered is correct, the app will display detailed information, including Driver details and the printing status of the license.
The app will present a digital version of your driving license, showcasing your Name, Date of Birth, Validity, and Card status. This digital version can be used for urgent needs, especially if the physical card has not yet been printed.
Refer to the images below for a more comprehensive understanding of how to use the BRTA DL Checker app.
Driving License Verification Bangladesh
Before hiring a new driver for your personal or business vehicle, it is important to verify their driving license. In the past, the process was quite cumbersome, making it difficult to authenticate anyone's license.
However, Driving License Verification in Bangladesh has become significantly more convenient for all individuals. Now, anyone can accomplish this by simply scanning the QR code located on the back of the license.
Just open the DL Checker app provided by BRTA, and click on the QR Code icon to initiate the scan. The app will then process the scanned code and determine whether the driver's data is genuine or fraudulent.
BRTA Driving License Check Via SMS
There is an alternative option available for non-smartphone users. They can inquire about their driving license status by sending a simple SMS from their mobile phones.
Just type NP DL REF No and Send to 26969. Authority will provide your Driving license number and number plate information in return sms.
I trust that the BRTA Driving License Check methods provided for 2023 have assisted you in efficiently verifying drivers' data. If you find these methods helpful, kindly share them with your friends and continue to stay connected with us.

BanglaDocs Admin