Service Guide
Malaysia Visa Check on MyIMMs: Step-by-Step Easy Guidle
Before proceeding, ensure you verify the authenticity of your Malaysia Visa Check to guard against potential fraud. In this guide, we will outline four straightforward methods for performing a 'malaysia e-visa check' on MyIMMs. These methods are designed to assist you in safeguarding yourself from visa-related scams.
It is essential to verify your Malaysia work visa on the official Malaysia Immigration website after receiving it from any source. Failing to do so could result in falling victim to visa fraud and potentially putting yourself in a hazardous situation.
This article will provide you with information on the 4 easiest updated methods to perform a Malaysia visa status check on 'IMM e service'. Please read attentively and proceed to check your 'My IMMs visa check' using your phone or computer.
MyIMMs
The Malaysia Immigration System offers the opportunity to check visa applications for workers and students through MyIMMs. This is the sole method available to verify anyone's visa status from anywhere in the world.
This portal provides five distinct options to check the issued visas or search visa application status for immigrants. These options are:
Application Number
Company Registration Number
Passport Number
Application Name and Citizen Country
Please check XI Class Admission in Bangladesh if you interested to know all about Higher secondary educational institutes admission system and complete guideline.
Malaysia Visa Check
Malaysia offers significant opportunities for immigrant workers. Each year, numerous immigrants come here to transform their fortunes. Many companies in the country hire individuals from other nations to fulfill their workforce needs, aiming to save costs and achieve precise outputs.
The Malaysian government has developed a sophisticated technological system for issuing visas to workers from other countries. This system is managed by their Immigration Department and is known as my IMMs.
If you are searching for information on 'how to check Malaysia visa,' there is important news for you. The 'Malaysia Visa Check e-service' has undergone an update in August 2023.
How to Malaysia Visa Check
You can easily check your Malaysian worker or student visa by visiting the website eservices.imi.gov.my/myimms/PRAStatus. There are multiple options available to check your visa application status.
Enter your Application Number, Employer ID Card Number, or Company Registration in the required fields, and then click the search button to instantly check the status of your Malaysia visa online.
Here is an image of the online Malaysia visa check system for how to malaysia visa check provided below. Please review it attentively to promptly obtain your visa status.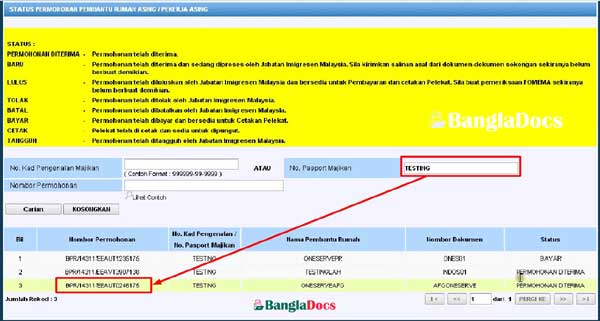 Are you still unable to check your Malaysian Visa Status? Don't worry; we have an alternative and updated method to assist you. Allow me to share this secret with you.
Malaysia Calling Visa Check
Simply visit the URL eservices.imi.gov.my/myimms/PRAStatus. The IMM e-service web portal will appear on your screen. Enter your Company Registration number (E.g., 879328-V) and click the search button.
The Malaysia e-visa system will display a list of all application names and passport details for those wishing to join this company. Locate your name in the list and verify the correctness of your visa.
If you wish to download your Malaysia visa in PDF format or print it for record-keeping, click on the 'Print' button located in the status column of the displayed list.
myIMMs visa check by Passport Number
If you're looking to conduct a Malaysia Visa Check using your passport number due to not having your Application Number or Company Registration number, there's an option for that as well. You can conveniently check your Malaysia visa status online using your passport number.
To check your Malaysia visa status instantly using your passport number, you need to enter the URL (https://eservices.imi.gov.my/myimms/FomemaStatus) in your browser.
Enter your passport number (E.g., EK042355), select your country (E.g., India), and click on the 'Search' button. Explore the list and locate your name. The page will display Document Number, Name, Date of Birth, Gender, Reference number, and status.
Carefully review all the information and ensure it matches your passport credentials to prevent fraud. It's important to stay informed before entering into any agreements with your Malaysian visa sponsor.
For a clearer understanding of the method for checking Malaysia visa status online using your passport number, refer to the image below. Follow the steps highlighted in red to ensure accurate execution.
The system might be in the native Malaysian language. If you're not familiar with the Malaysian language, there's no need to worry. Simply add '?lang=en' at the end of the URL mentioned above to display the webpage in English.
Visa check for Malaysia by Application Number
There is another option to justify or Malaysia e visa check by Visa application number. Ask your visa sponsor Your Online Visa Application number of IMM e-Service.
Go to https://eservices.imi.gov.my/myimms/PRAStatus?lang=en enter your Application number on required field and press search.
If your application number is correct it will show your Employer Identification Card No. / Company Registration No, Maid Name/Employee, Document Number and Status.
e visa Check for Malaysia
Malaysian foreign affair started issuing e-visa recently. They will take initiative give e-visa to everyone to reduce fault, mistakes and make visa process easy and comfortable.
If you applied for a Malaysia e Visa then you can check your e-Visa status more then easily. To do this task you just need your Passport Number and e Visa sticker number.
Keep those document on your table and visit https://malaysiavisa.imi.gov.my/evisa/vlno_checkstatus.jsp now or anytime later.
Enter your passport number and Malaysia e-Visa sticker number. Then, input the captcha code from the image and check the 'I have obtained my eVISA' box. Finally, click on the 'Check' button.
Conclusion
I strongly recommend that you verify your Malaysian work or student visa before engaging with any visa seller. This practice can help you avoid unforeseen losses and complications. I hope our MyIMMs Malaysia Visa Check guidelines assist you in making informed decisions about your journey to Malaysia.
If you found this article helpful, please consider sharing it with your friends and family. Alternatively, you can help them check their visas by following the methods outlined above. May your journey as an immigrant worker be blessed by God.